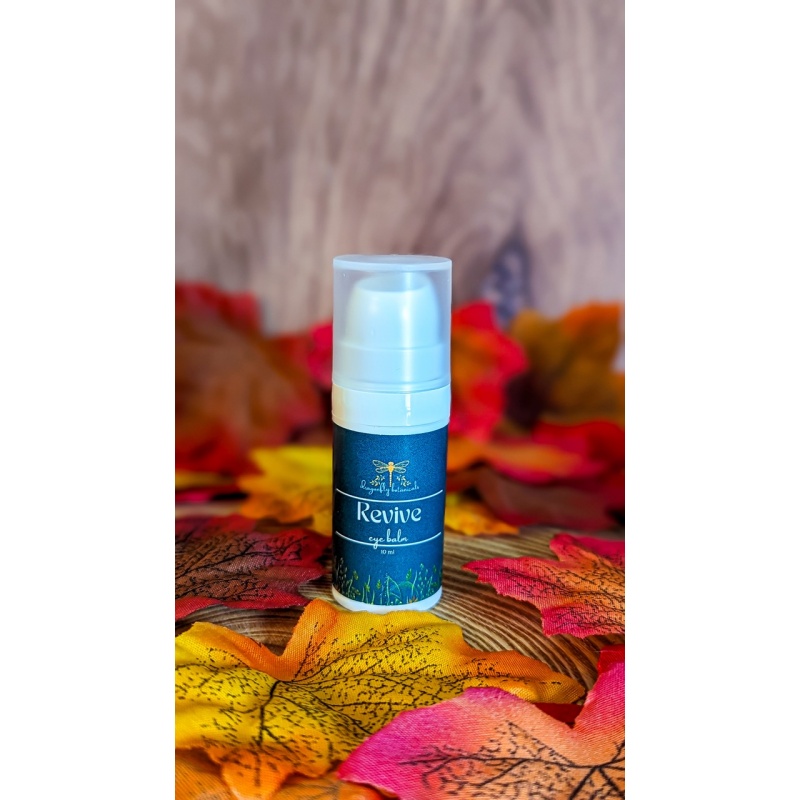  
Revive Eye Balm
10 ml Balm
Targets Puffiness and under eye circles to brighten and smooth fine lines.
This eye balm targets puffiness and under eye circles to brighten and smooth fine lines.
It features some amazing botanicals and has a luxurious, rich texture and a subtle rose scent.
Featuring:
Red clover cold infused in organic olive oil: 
Red clover is packed with antioxidants and isoflavones that help boost collagen production and increase skin thickness and moisture. Red clover boosts elasticity and aids in the movement of lymph, making it a great option for under eye puffiness! Red clover was traditionally used for eczema and psoriasis and has a delightfully calming effect.
Pearl powder: Pearl powder has a (very) long history of medicinal and beauty uses in Traditional Chinese Medicine. It is rich in minerals and antioxidants and targets dark circles and hyperpigmentation. Pearl powder has a luminescent effect and literally makes your skin glow!
Eyeseryl peptide: This peptide specifically reduces fluid accumulation under the eye by promoting lymphatic circulation and improving skin elasticity. There is some promising research on its use specifically for under-eye puffiness!
Rose essential oil: Rose essential oil is known for its skin benefits and alluring fragrance. It's anti inflammatory and can improve an array of skin complaints including swelling and fluid accumulation.
Revive is best used twice daily after your toner or hydrosol. Follow with your face cream or oil.
Ingredients
Water, Red Clover cold infused in Olive Oil, Aloe Leaf Juice, Shea butter, Eyeseryl peptide, Pearl powder, Emulsifying wax, Stearic acid, Safflower oil, Rose essential oil, Glycerin, Silver Dihydrogen Citrate, Citric acid, Pottassium Sorbate
Suggested Use
Apply under eyes morning and night. Follow with your usual moisturizer.
Customers who bought this product also bought: