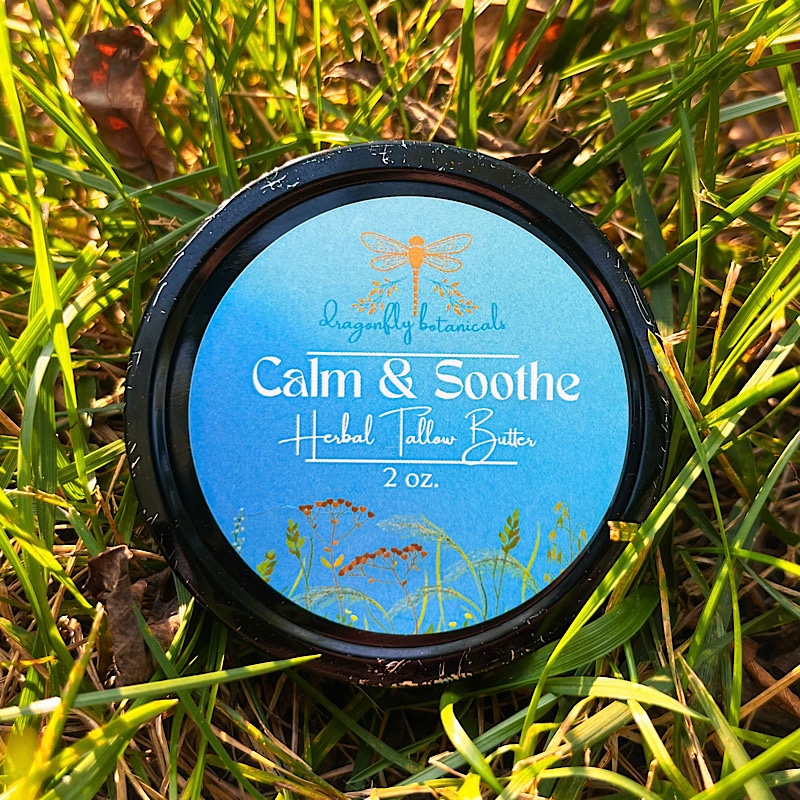  
Calm & Soothe Herbal Tallow Butter
Calm & Soothe Herbal Tallow Butter 2oz
Our tallow butter is the perfect remedy for skin barrier issues including conditions like eczema, dry itchy skin and allergic dermatitis and it's amazing for people with dry reactive skin. 
*essential oil free to preserve the skins delicate micro biome
*made with organic herbs and grass fed tallow
*soothes and seals in moisture instantly 
*ideal for eczema and other inflammatory skin conditions
But why on earth would we want to use tallow on our skin? Tallow is a traditional delivery system for herbs, which herbalists used long before industrial seed oils were available and it has a ton of advantages, especially for people with unique skin needs.
⭐️It is free of harmful chemicals and protects from environmental damage
⭐️It has a similar fatty acid profile to our own skin so mimics the skin's natural barrier (important when that barrier is broken in conditions such as eczema)
⭐️It acts as an excellent moisturizer and promotes skin regeneration 
⭐️Is unlikely to be a problem for people with reactive skin and allergies
Our tallow butter is infused with cooling, healing herbs before we add evening primrose oil and beeswax to perfect its texture and skin healing magic. We leave the essential oils out of this remedy so kids and those with sensitive skin can use it liberally, worry-free. *
*These statements have not been evaluated by the Food and Drug Administration. This product is not intended to diagnose, treat, cure or prevent any disease.